The Forge has a great spread of classes: 90 minute and 60 minute hot yoga, Yin, and Hot Pilates. The benefits of a year membership are great.

Karl B.

Inferno Hot is by far the best workout, finally have been seeing results and feeling better than any other workout I've done before... others have been noticing as well how toned I am getting. The teachers are very knowledgeable and helpful to getting you where you want to be.

Anita S.

Rest community! Each instructor is very knowledgeable and caring. I'm almost 72. I started my yoga experience a year ago November. I've had two knee replacements and rotator cuff repair. They adjust and help me through all limitations. They are awesome. Highly recommend at any age. It's not too late to start.

Judy C.

My visit to Forge Hot Yoga West Linn included a friendly welcome, clean and comfortable environment, and a well-managed yoga session.

David O.

Tried legit hot (like hot-hot) yoga for the first time this weekend. I. am. hooked. Every fear, doubt, and assumption were sweat and twisted right out of me.Imaneed to do that again.

Elizabeth D.

I love Hot yoga! As a horticulturist I get enough exercise but what my body really needs is realignment and in the depths of Oregon winter my soul needs the heat, together it is a very effective mind and body workout love the detox effects of all the sweating! The teachers are super pro and keep you motivated... love when they add in some yogi spiritual guidance too... its the total package!

Robin C.

I've never done Bikram yoga and very little yoga for that matter. The class instructors here are kind, helpful, and good. I am fortunate to be able to do yoga at this studio. First rate help and I really think the space is great. Thank you so much for your patience and kindness.

Patrick S.

Loved the zippy energy, from the stripes in the pants, to the group count downs. Great work out.

Linda B.

This studio is consistently supportive and remarkably friendly. They have professional staff who teach solid classes. The facility is spacious. Always a treat to go there.

Cindy A.

Super clean, non smelly studio, with awesome people, is key for a great hot yoga session. And Forge has it!

Joseph H.
---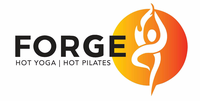 Forge Hot Yoga West Linn
Yoga
---
1554 Garden St Ste 101
West Linn, OR 97068
United States
Mon - Fri: 5:30am - 9:00pm

+1 (503) 303-1466