Super clean, non smelly studio, with awesome people, is key for a great hot yoga session. And Forge has it!

Joseph H.

I can't say enough good things about Forge West Linn! It has changed my life! I had neck and shoulder pain for years. I saw several doctors and therapists. No one could fix it. My first week in yoga and it was gone! That was 6 and a half years ago! I sleep better and feel great!

Janiene S.

I love Forge Hot Yoga West Linn! Angela has created a wonderful studio with great teachers. The Yin Yoga and Sound Healing classes have been so amazing! I can't wait to sign up for the next one!

Marina P.

The studio is clean, open and instructor was wonderful. I was welcomed with a smile from staff and other students. It felt great!

Reese K.

great teachers and wonderful staff and management. true partners that work with you. thanks!

Perry D.

Forge is a terrific studio! I've been a member for several years and really enjoy the variety of classes. The instructors are really fun and keep classes lively. They also work with you to help improve your postures. Just bought another annual membership today!

Lynette P.

I find the West Linn studio to be a place of regeneration. It helps to keep me flexible, strong and relaxed. It also helps greatly with other activities, specifically golf and downhill skiing.

Patrick (Pat) S.

I love love love this studio! Beautiful facilities, kind and supportive staff, and excellent instruction.

Lisa B.

I'm the least flexible person in the world and I still enjoyed it and can't wait to grow in my skill level.

Kacie Lea C.

I love coming to your studio and everyone is so welcoming and fun here!!! Always feel so good after leaving the studio

merissa F.
---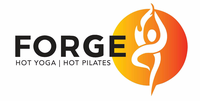 Forge Hot Yoga West Linn
Yoga
---
1554 Garden St Ste 101
West Linn, OR 97068
United States
Mon - Fri: 5:30am - 9:00pm

+1 (503) 966-2520