Patrick D.

I felt worn out and awesome after the session. Recovering from a broken back has been tough. After one session.. my back feels terrible... and great at the same time. Lol Just want to thank you and Tiana for the great session and helping me on the road to recovery. Y'all are awesome

Curtis M.

It was a really nice place, and enjoyed the instructor

Danielle C.

Great class, postures, super group of yogis, friendly staff, I esp like hot yoga

Marissa T.

It was very relaxing n I love stacy she's an amazing instructor

Shay C.

Jeffrey N.

Sydney G.

Great atmosphere and instructors!

Tabbatha L.

I love yoga SA

Kymbre H.

Marsha N.
---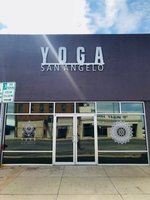 Yoga San Angelo
Yoga
---
63 North Chadbourne Street
San Angelo, TX 76903
United States
+1 (325) 309-5767