People are friendly and the Doctor is wonderful!

Michelle W.

I chose the score I did because of the level of expertise of the trainers, it's exceptional, and the personalized attention makes each workout precisely what my body needs that day. I'm pressed to get out of my comfort zone, which makes each workout more successful, getting me to my goals faster.

Sue F.

Mary Ann F.

Alyssa gave me a tough, but fun workout!

Birgit R.

Sarah E.

Emily G.

Fun workout, great community

Chelse Z.

Knowledgeable trainers with a great attitude: encouraging and understanding.

Joanne P.

Maya H.

I love Alyssa

Viral J.
---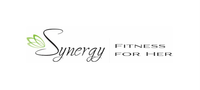 Synergy Fitness for Her
Fitness Classes / Boot Camp
---
1125 W NC Hwy 54
Suite 404
Durham, NC 27707
United States
Mon - Fri: 5:30am - 7:30pm

+1 (919) 402-0888