I LOVE Forge Hot Yoga! Angela and Amy offer a nice variety of classes and all the instructors are friendly and informative. It's a fun atmosphere with lots of regular class attendees to it's easy to get to know people.

Lynette P.

I've been to multiple yoga studios (most of which are Bikram specific) and I'm so happy to have found my "home studio" at Forge. It truly is my happy place. I'm in love with the practice but the studio(s) really do enhance the experience. Thank you Angela, Ryan, and Staff!!

Dannielle C.

Love the studio! Very clean as well as odorless. The temperature is perfect for me. It's not so hot that I have to sit out a lot, yet I'm working up a great sweat. Shawn (Sean), my first instructor, is positive, friendly, fun, and professional. The changing/shower room rocks!! 3-4 stalls in the ladies room, so no waiting or jumping in and out for 2 minuets. Can't wait to come back!😅

Kendra L.

My first visit for the Hot Pilates class was great! The instructor, Kristen C was welcoming and so were the other attendees. I'm excited to try the hot yoga class next time.

Elizabeth C.

I've been practicing at Forge Hot Yoga for nearly two years, and it's been an amazing experience. I was 49 when I joined, and was at a low point physically and emotionally. I was out of shape, had little flexibility or muscle tone, and was overwhelmed with responsibilities at work and home. In fact, I was so out of shape that I hesitated to even try hot yoga for fear of embarrassing myself. But at the urging of a friend, I decided to try one class to see how it was. That first class was very physically challenging and humbling, but was so freeing emotionally that I quickly became hooked. With regular practice, I found benefits for my brain, heart, and body; every class is good for at least one of those three, and most classes are good for all of them. Since I started, my wife has been diagnosed with cancer and gone through treatment, and my daughter has also struggled with health issues. Before I started my practice with Forge, the burden from those events might have crippled me. But I gained strength, flexibility, confidence, patience, and calmness which built up a reserve of energy that made me a better parent, partner, and person. The instructors are caring and generous, always with a smile and encouraging word; they get to know you as a person, as well as a yoga student. The facilities are clean and bright, and the room itself is hot - just like it should be! Without a doubt, practicing with the Forge community has been the most important thing I have done for myself in decades - I cannot imagine where I'd be without them!

Jeff S.

Welcoming and non judgmental at its best! From the moment I walked in I knew this was going to be a different experience. Everyone from the instructors to the students offered welcoming advice, smiles and congratulations for not only coming to class but finishing my first hot yoga! After each class, be it Pilates or hot yoga, I feel energized mentally and physically, challenged to be my best and like every part of my body has been worked. The best decision I made was walking through those doors and I know it'll be life changing!!!!

Jackie R.

My severe chronic pain went from a daily 7 to a more manageable level thanks to Forge Hot Yoga studio. The deep healing Hot Yoga, the strengthening IHP a nd the sciatica pain slaying Yin Yoga worked together as a system. I no longer get medication or steroid shots for my pain.

Lizzie L.

As someone who has experience a whole host of physical injuries; I have found that Bikram/Hot Yoga helps me liberate myself from pain pills. Unlike most studios I have visited, Forge is very friendly and unpretentious.

Jim C.

Forge yoga is exactly what I have been needing. I love the Yin Yoga o n Friday nights.....perfect way to end the week and prepare me for a great nights sleep. I am highly benefiting from the Hot Pilates class as well. So grateful to have this awesome yoga studio in my neighborhood. Tracey Heartsun

Tracey H.

Forge Hot Yoga HV is an amazing studio, ran very professionally and always clean. I love the variety of classes and how I feel after each class!

Ryan D.
---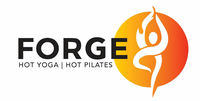 Forge Hot Yoga Happy Valley
Yoga
---
15932 B SE Happy Valley Town Center Dr
Happy Valley, OR 97086
United States
Mon - Wed: 5:30am - 9:00pm
Thu - Fri: 8:00am - 9:00pm
Sat - Sun: 8:00am - 6:00pm

+1 (503) 303-1466