I love the challenge Hot Pilates offers it never gets easier but I do find I have become stronger and yet there are days I'm not as strong as other days. I love a smaller studio for a change and the awesome leaders at Happy Valley location where I attend, You all are a blessing to my days, thank you!

Pam V.

I really enjoyed the class and felt like the instructor was very knowledgeable and fun!

Daniela R.

The instruction at Forge has always been top notch. It's the place I go to relax and renew.

Melissa H.

When I first moved to the area, I visited two other studios. I have not been back to either of those since visiting forge

Jim C.

I love everything about Forge Happy Valley... Classes... Instructors.. Environment.. Clients.. All first class!!!

Sean M.

The instructor was welcoming, and very in tune with her class. Because of her I will come back.

Kassie A.

Forge is my favorite place! Love the teachers. Love what the yoga does for every part of my being: body, mind, emotion, and spirit.

Lauren F.

Great workout! Phenomenal instructors that push us! Clean environment

Lindsey S.

Because I love the instructors and the people at the studio. A wonderful community! Super positive and encouraging atmosphere!

Alysanne B.

I love my yoga experience at Forge. The yoga process has changed my body as well as my mind. Although the postures are the same each instructor has their unique way of presenting the class which gives me a different perspective and solution to improve each pose. Thank you.

Pam M.
---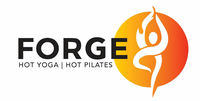 Forge Hot Yoga Happy Valley
Yoga
---
15932 B SE Happy Valley Town Center Dr
Happy Valley, OR 97086
United States
Mon - Wed: 5:30am - 9:00pm
Thu - Fri: 8:00am - 9:00pm
Sat - Sun: 8:00am - 6:00pm

+1 (503) 303-1466