Forge yoga is exactly what I have been needing. I love the Yin Yoga o n Friday nights.....perfect way to end the week and prepare me for a great nights sleep. I am highly benefiting from the Hot Pilates class as well. So grateful to have this awesome yoga studio in my neighborhood. Tracey Heartsun

Tracey H.

Forge Hot Yoga HV is an amazing studio, ran very professionally and always clean. I love the variety of classes and how I feel after each class!

Ryan D.

The Forge studios and staff are awesome. Angela has done a great job in building a community in addition to a business. Whether focusing on your Bikram practice or working out in a group in IHP, I always feel welcome and encouraged to do my personal best! Truly transformational! Thanks Forge!

Jeffrey G.

Every class I have attended at Forge has been excellent. Staff super friendly and very encouraging. The have multiple locations too. Try it... you won't regret it.

Stephen C.

Everyone at the studio is super friendly. I like that you can drop in without booking classes in advance. After just a few months of going, the back pain that I have suffered with for almost 20 years is gone. Because of that I'm now able to sleep much better and have increased levels of energy. I also find myself drinking more water throughout the day and having an easier time concentrating. I wish I would have tried this sooner.

Chelsea C.

Start with hot yoga or hot Pilates and end stretched out, satisfied and relaxed with a cool lavender scented cloth on your brow. So nice! A great way to finish your day or start your day.

Paula W.

Great yoga studio- I like the 1 hour hot yoga. It's great!

Susan K.

Ok. I love the community Forge provides. The variety of classes and personable, inspirational instructors are such a necessary part of my life!

Whitney T.

Forge hot yoga amd Pilates is my sanity! All the instructors and yogies are so welcoming and friendly I literally feel like it is my home away from home. Not only does my body look nd feel great but the effects it has on my mind is even more powerful. Keep coming back, it works if you work it! -Alisha A

Alisha A.

I no longer get steroid injections in my back or take harsh pain killers! I could barely enjoy simple things in life like going for a walk with my family due to chronic pain in my back, knees and hips. Hot Yoga has changed my body and my life and I am so grateful!

Lizzie L.
---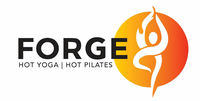 Forge Hot Yoga Happy Valley
Yoga
---
15932 B SE Happy Valley Town Center Dr
Happy Valley, OR 97086
United States
Mon - Wed: 5:30am - 9:00pm
Thu - Fri: 8:00am - 9:00pm
Sat - Sun: 8:00am - 6:00pm

+1 (503) 966-2572