Forge Hot Yoga is the place to be! I absolutely love it there ! I feel so much afterwards and know I'm doing my body good!

Angela O.

I love the Hot Pilates class, each and every instructor is amazing and works different area's which I love since i attend 3 different days & times. A great challenge and workout for the total body!

Pam V.

The Forge studio in Happy Valley experience was great! Super clean, spacious changing room, consistent heat (but not crazy-hot) and an instructor who used a straightforward Bikram dialogue with the right mix of personal insight. Plus, cool towels at final Savasana! I will be back!

Billy H.

I cannot express in words ONLY, look at my body language, how great I feel after my yoga session at Forge. I feel like a new person and can honestly say I am proud of myself! I hadn't been to a yoga studio in over 10 years so I was a bit intimidated at first, but the instructors are so welcoming, they never single anyone out in a humiliating way. I have had instructors meet with me after class to help me do the poses more efficiently. It all means so much. I could go on and on! @

Mindy S.

I was very sceptical about yoga. After going several times and with Tracy's help, I am a convert. I would, and have recommended going here too family and friends. Yin Yoga is now a part of my life and weekly routine.

Bob L.

We had an awesome experience at Forge Hot Yoga! The facility was well maintained and the instructor was so helpful. Excited to go back again soon!

Chelsea R.

I LOVE Forge Hot Yoga! Angela and Amy offer a nice variety of classes and all the instructors are friendly and informative. It's a fun atmosphere with lots of regular class attendees to it's easy to get to know people.

Lynette P.

I've been to multiple yoga studios (most of which are Bikram specific) and I'm so happy to have found my "home studio" at Forge. It truly is my happy place. I'm in love with the practice but the studio(s) really do enhance the experience. Thank you Angela, Ryan, and Staff!!

Dannielle C.

Love the studio! Very clean as well as odorless. The temperature is perfect for me. It's not so hot that I have to sit out a lot, yet I'm working up a great sweat. Shawn (Sean), my first instructor, is positive, friendly, fun, and professional. The changing/shower room rocks!! 3-4 stalls in the ladies room, so no waiting or jumping in and out for 2 minuets. Can't wait to come back!😅

Kendra L.

My first visit for the Hot Pilates class was great! The instructor, Kristen C was welcoming and so were the other attendees. I'm excited to try the hot yoga class next time.

Elizabeth C.
---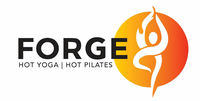 Forge Hot Yoga Happy Valley
Yoga
---
15932 B SE Happy Valley Town Center Dr
Happy Valley, OR 97086
United States
Mon - Wed: 5:30am - 9:00pm
Thu - Fri: 8:00am - 9:00pm
Sat - Sun: 8:00am - 6:00pm

+1 (503) 966-2572