I love Flawless and the staff there! Whitney and Johanah are soo sweet! Going there has helped me with my self confidence by seeing my face clear up. Every visit and investing my money into it has been SOO worth it! It feels nice applying foundation and seeing it apply SOO smoothly with no bumps around my face. I didn't have very severe acne, mine was considered mild. At first I was a little skeptical because I noticed my face was breaking out a bit more when I started the treatment but Johanah reminded me "it gets worse before it gets better." I saw my before pictures before I started the treatment while going through my treatment and I could not believe it! When I saw my face clearing up I just wanted to keep on going. This treatment is really really effective! The skincare routine at first felt tedious but it later becomes much easier and didn't feel like forever. Unfortunately, now I go there every 4 weeks cause I don't get to see Johanah and Whitney as frequently. It also feels so accomplishing when they compliment on how clear my face looks. The clinic is really beautiful, calm and very relaxing. I once wished for clear skin and I am so thankful that Flawless and Johanah helped me grant my wish. I love Flawless and l am soo thankful for them existing. 10/10 recommend, they are that good. I promise!

Angelica E.

My son is going to Annelein for the acne facial treatments & she does an amazing job. She and is also very knowledgeable and sweet. I recommend her and Flawless for anyone considering this as an option to treat acne vs. medication. Or, even someone wanting a great facial.

Joseph C.

After trying for almost 7 weeks to get an appointment over the phone, I finally used their online app and all went smoothly from there! My daughter is almost 13 and has sports related back acne. The clinician Johannah had a perfect demeanor with her and really explained the process, importance of her taking the initiative independent of her parents and went into lifestyle, diet also. I was impressed and most importantly my daughter left feeling empowered and hopeful. I highly recommend their acne management program.

Amber L.

Everybody was extremely friendly and helpful. You could tell that they care deeply about you and your skin. I would highly recommend this clinic.

Esperanza N.

My skin has become smoother and less prone to breakouts...at 47 yes I still get acne and Flawless has helped control it!

Alanna O.

Karly is very efficient and pays attention to detail. She is receptive to comments and requests. Flawless has comfortable facilities and very attentive staff. I will not go to another company for facials and skin care recommendations after receiving top quality service from Karly and Flawless Facial.

Suzanne N.

The staff at Flawless are awesome! They will do what you ask regarding facials but will let you know if it's right for your skin and will make suggestion s of what will work best for your skin issues.

Lena L.

The estheticians at Flawless know skin! I have had excellent results with my acne treatment so far and couldn't be happier. Everyone working here is very friendly and alway happy to answer questions.

Ally C.

I am almost finished with my acne treatment, and I could not be more happy! With my wedding coming up, I wanted to ensure that my skin would be "flawless". I recommend Flawless to anybody who needs to get rid of the stubborn acne or even just clear up minor congestion. They work with all types of skin! Johana is so pleasant to work with! She has easily turned into a friend through this whole process. Thank you Flawless! xoxo

Mariah B.

The Flawless gals are so knowledgeable and always provide excellent customer service. The place of business is relaxing and inviting. I have been going here for over a year and have enjoyed every service and visit.

Kristina B.
---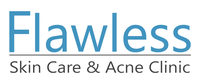 Flawless Skin Care and Acne Clinic
Facial & Makeup
---
1001 W San Marcos Blvd #170
San Marcos, CA 92078
United States
Tue, Thu: 11:00am - 7:00pm
Wed: 10:00am - 7:00pm
Fri: 10:00am - 6:00pm
Sat: 10:00am - 3:00pm

+1 (760) 736-8240