The Bay Area Equestrian Center was exceptional. Signing up for my class was a breeze. My encounter with management was friendly and welcoming. The instructor was magnificent and extremely helpful. The manner in which she taught was easy to understand and follow.

Marcos B.

Nicole was very patient and attentive with my 3 year old. She made her first riding experience enjoyable! Also the front desk staff was very welcoming and helpful! A great first impression 😊

Marlowe E.

BAEC is a well-kept, safe equestrian environment that provides a fun experience for beginners to learn, while also providing the opportunity for top level competitive shows for youths. From our experience with BAEC, I am sure my daughter is learning quality techniques from day 1, which will give her skills to enjoy horses safely and with confidence.

Piper R.

kids really enjoy coming out there!

Addison Y.

My four-year-old daughter loves this place! The staff is friendly, instructors are knowledgable, and it is a great environment for kids to be introduced to horses.

Analise H.

My grandson is four years old and these teachers are so patient and gentle with him that he is having a great experience. He loves going to ride The horses especially Maverick!

Caleb E.

Such fabulous instructors! The kids can't wait to come each week! Such a wonderful place!!!

Cora S.

My daughter had a wonderful 2 days learning the ins and outs of horses. She came home so excited and proud of herself. She has never ridden a horse before, she is extremely afraid of heights and very shy in public settings but the wonderful staff at Bay Area Equestrian Center took such great care of her and really brought her out of her shell. I loved the parent demonstration at the end as well. The best part was getting to see her trot on a horse, weave in and out of cones and play "Simon says" while riding was great. I highly recommend anyone to this facility.

Lauren R.

The Bay Area Equestrian Center provided a wonderful experience for my 8 year old grandson! Mallorie was super patient & caring while working with Preston. Awesome experience will definitely return! Thanks to all the staff for a fun experience!

Preston B.

This is the very best riding facility I've ever been to the instructors are great I will definitely be back

Helene F.
---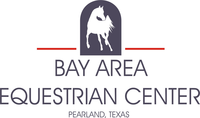 Bay Area Equestrian Center
Sports & Fitness
---
1908 E Broadway
Pearland, TX 77581
United States
Mon - Fri: 9:00am - 8:00pm
Sat: 8:30am - 2:00pm
Sun: 10:00am - 2:00pm

+1 (281) 996-1515