I loved it they made me feel right at home. Great trainer would love to keep training with her. Great horese! Just all around amazing already booked my next lesson!

Chelsey C.

My granddaughter loved the horses & riding , we have signed her up for lessons through Oct & will going much longer. Emma has found her place, thanks for this opportunity.

Emma B.

My son has ridden horses at BAEC for several years and has a great experience. The staff are great folks!

Matthew H.

I am a novice as a parent of a child interested in riding, and everyone here has been incredibly helpful and welcoming. We really couldn't be happier.

Sophia B.

It was a wonderful experience and I look forward to more lessons!

Madison W.

It is clean, organized and you can clearly see the horses are well taken care of and it's very family friendly.

Angelina L.

My five-year-old son had a great first riding lesson with Krista. It was both fun and informative and she taught skills at an appropriate level. We will definitely be back!

Rhett T.

The facility and staff are fantastic.

Christopher J.

I have attended 3 camps this summer and yours was by far the best. Whatever level your child is at they will make your child better than they were. I love the way they teach. Their methods are so clear and easy to understand. I love the show for the parents at the end which challenges the rider to demonstrate what he has learned. It is a wonderful camp. My only regret is that I didn't put my daughter in this camp first. I never would have attended any other camp because they are so good at what they do. The facilities are clean. The horses are taken care of. The staff was helpful and informative. Everyone had an answer to any question I asked. They also give you a reminder call before the camp. They were courteous and patient. This is a wonderful camp. So happy I found them. My daughter loved the camp as well. She meet a few friends along the way and loved her horse. It could not have been better.

Lilly G.

Our daughter had a wonderful experience at the 2 day horse camp! We will be back!

Sophia M.
---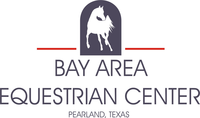 Bay Area Equestrian Center
Sports & Fitness
---
1908 E Broadway
Pearland, TX 77581
United States
Mon - Fri: 9:00am - 8:00pm
Sat: 8:30am - 2:00pm
Sun: 10:00am - 2:00pm

+1 (915) 221-8692