Aisha is simply just the best! im always satisfied with the brows! Happy Vibes all around ❤️

Ricky C.

The service I went in for was a French manicure with shellac. This was my first visit and Lena was the lady that took care of me. She was very sweet and gentle and listened to how picky I am and did a really nice job. Everyone was friendly and I was even offered water, coffee or wine! I guess I found my new salon!

Clarissa S.

I am very happy with the service.

Ana M.

Yes staff is very friendly and the service is great.

Annette M.

I had the best experience at Aisha , Daniel is the best, he knows about color correction and cares about your hair . Everyone there is sooo welcoming and nice

Teressa P.

Aisha is the best on threatening your eyes

Gabriel R.

Great experience! Staff very professional and courteous. Arri did a great job.

Debbie C.

The staff at Aisha are very professional, friendly and respectful. They make you feel welcome and part of the family. From eyebrow threading, nail And hair service they do an outstanding job. I will recommend this place to everyone who wants to look and chic. Ivonne

Ivonne P.

Ok

Patty B.

Aisha Beauty Salon is the absolute best place to get your eyebrows threaded! I've been going there steadily for almost two years and always get compliments on my eyebrows. They are the best!

Rose F.
---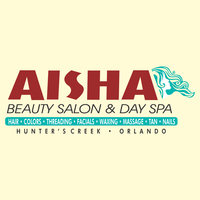 Aisha Beauty Salon & Spa
Salon / Hair Care
---
Tue - Sat: 9:30am - 7:30pm
Sun: 11:00am - 6:00pm

+1 (407) 674-6860