Book Online
Body Services
1 Service
Body Wrap
$85.00
To prepare for the body wrap, please do not apply lotion following your shower and exfoliate if possible. You may wear your own undergarments, disposable undergarments that we provide or nothing during your wrap. If you choose to wear your own, the solution absorbs best through cotton. They will be wet when you are done, so please bring another pair to wear home. The most important thing is to drink a gallon or more of water in the 24 hours following your wrap to ensure the toxins are removed from the body.
About your wrap: Linen cloths soaked in a soothing blend of aloe and herbs are wrapped around each limb and the core of the body. These non-compression body wraps offer a safe and effective way to lose inches and cleanse toxins from the body. Unlike compression wraps, you do not lose water; you are actually hydrated. The unique herbal blend targets and removes toxins from fat cells and brings them into the lymphatic system for removal from the body. Simply drinking water throughout the day will facilitate this removal and promote continued inch-loss. Men will appreciate that size loss comes only from fatty areas, and no muscle tone is lost. Everyone will appreciate the healthier feel of the toxin cleanse.If you wish to be provided with measurements before and after your service, please select the Body Measurements Add On Service.
Wellness or Integrative
1 Service
Foot Reflexology
$80.00
Foot Reflexology is a natural healing art based on the principle that there are reflexes in the feet which correspond to every part, gland, and organ of the body. It is believed that a blockage of an energy field, invisible life force, or Qi, can prevent healing. Through the application of pressure on these reflexes without the use of tools, crèmes or lotions, reflexology relieves tension, improves circulation and helps promote the natural function of the related areas of the body. This can relieve stress and pain in other parts of the body through the manipulation of the feet. The pressure received in the feet send signals that 'balance' the nervous system or release chemicals such as endorphins that reduce stress and pain.
---
Zalla Massage
Massage Therapy
---
1411 Haddon ST
Houston, TX 77006
United States
Tue - Fri: 9:00am - 8:00pm
Sat - Sun: 10:00am - 8:00pm

+1 (281) 402-8840
Refer Your Friends And earn rewards!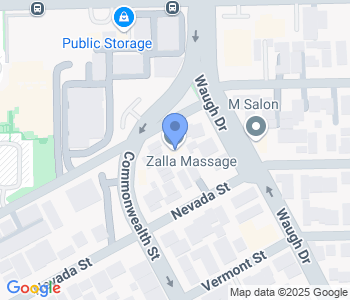 14 Reviews
After traveling and moving around a ton of luggage my back was killing me. I found this spa on Yelp. I received an outstanding deep tissue massage.

Toni C.

Zalla is the only place I get a massage in a Houston!

Cecelia O.

Best massage I have ever had!!! Megan was amazing and gave me the best massage...it was relaxing and so stress relieving! I left feeling like a ne...

Lori R.