Book Online
30-Minute Counseling Consultation
My work is focused on helping Dads make meaningful connections with their children so that they can create lasting positive memories and be a better mentor while living authentically and more peacefully.
If you ever struggle with anxiety or depression.

If you're comparing yourself to other fathers and feeling worthless.
If you find yourself not feeling the closeness with other people that you want.

If you notice that you keep making the same mistake over and over again.

If your kids are ignoring you or not wanting to spend time with you.
If you want to find meaningful connection with your family and be a better Dad.
In this 30 minute call I will listen to what you are going through and make sure I am the person that can support you. If I am not the person to help you I'm happy to offer you a referral list of other professionals in the area. Request a day and time so we can get started. I'll confirm once I get your request.
30 Minute Fatherhood Coaching Consultation
My work with Dads is unique in that I have learned how men can sometimes struggle in marriage and as fathers or father figures.
In my practice, I allow men to show up as themselves and I don't push them to experience things differently than how they are already doing things. I have been through much of the challenges of relationships that men go through.
I know the difficulty of fatherhood and what it's like to be a son. I make sure that the men I work with are given the tools they need to enhance their connection with their children and partner.
In this 30 minute call I will listen to what you need and make sure I'm the best coach to help you through this. Send a request for a day and time and I'll confirm shortly.
30 Minute EMDR Inquiry for Wholehearted Dads
EMDR is a highly effective therapy modality for working through difficult memories and events in your life.
It's a hot topic because it's extremely effective for anything from:
Anxiety
Depression
PTSD
OCD
Grief
Panic Attacks
Trauma
Consider a consultation about EMDR , especially if you have gone through counseling and think you want to try something new. EMDR should only be administered by licensed, trained professionals. I look forward to meeting with you by phone. I'll be available to answer any questions you might have and give the best advice I can given your situation. Put in a request for a day and time and I'll confirm with you soon.
---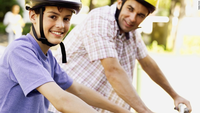 Wholehearted Dads
Personal / Life Coaching
---
Mon - Wed: 9:00am - 6:00pm

+1 (303) 835-6886