Book Online
Phone and/or online project consultation.
Book a meeting with Webidextrous.com to discuss your project.
Your call will be booked for U.S. Central Time.
Calls for prospective clients are FREE.
Calls for some active clients will be billed hourly (1 hour minimum) according to any prior written statement of work agreement and will be invoiced to your project account.
---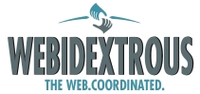 Webidextrous.com - Professional web services and consulting
Business Consulting
---
Mon - Fri: 9:00am - 5:00pm

+1 (847) 973-1457