It was super fun and challenging!

Jaclyn S.

Rita E.

I was hooked after my first class!

Elana T.

Excellent facility, excellent variety, excellent instructors. The only negative is when there is discontent between instructors or instructors and management. Professionalism should always be of the utmost importance 😉 Love this place!!!

Kristi T.

Instructors, environment, results.

chris B.

Amazing environment and staff!

Cidney C.

First session and the staff was very welcoming along with instructor Michelle.

Shirley G.

The environment is positive, challenging, and there are a variety of workout options.

Katie B.

I love the classes that use weights and balls etc and of course the killer HIIT classes 💪🏼🧘‍♀️

Jennifer D H.

Warrior 1 is amazing.

Aeriel C.
---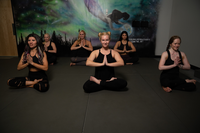 Warrior 1 Yoga Spa
Sports & Fitness
---
13019 Stockdale Hwy Suite 100
Bakersfield, CA 93314
United States
+1 (661) 319-6906