An overall great experience! I never felt pressured to buy anything and my skin already shoes great improvements! Looking forward to my next appointment in 2 weeks.

Becky V.

Just had my first facial with Debbie , will not be my last ! Not only was the facial customized to my skin , Debbie explained what she was doing as she went along . It was one of the best experiences I have ever had . She uses top of the line products and has done her research on the lines , not your basic skin care lines ,I appreciate that . Her spa is so beautiful and inviting , I didn't want to leave !!

Debi A.

Facial was amazing! Very relaxing ang mt skin feels great.

Melinda S.

Service wonderful. Spa comfortable, inviting and friendly. Walked out feeling so refreshed.

Mary H.

I totally enjoyed my facial with Debbie. When all is said and done I end up going home feeling relaxed and totally pampered. I'll be back for sure

Margaret W.

The anti-aging facial was spectacular! Debbie has created the most beautiful, peaceful and relaxing environment and spa services.

Judy L.

Enjoyed my stress buster massage that's 90 minutes of the month truly relaxing thanks Jan

Nancy D.

Really enjoyed my first massage with Jan. She was intent on finding out what I wanted her to work on and checked with me to make sure she was providing a good experience. I was definitely relaxed after she finished and will definitely be back!

Susan R.

Devon was definitely the best lash artist I have had! My lashes look amazing, long thick and natural!!!

Jennifer L.

I've enjoyed and been satisfied with every treatment I've had with Debbie. Due to various skin issues I go in for the Skin Classic "The Works" every year or so. The treatments are easier on me and my skin than the alternatives at the dermatologist and the healing time is quicker. I would definitely recommend people to give it a try.

Lorrie O.
---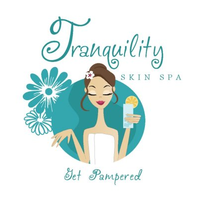 Tranquility Skin Spa
Spa & Massage
---
320 W. Irving Park Road
Itasca, IL 60143
United States
Tue, Thu: 12:00pm - 7:30pm
Fri - Sat: 10:00am - 4:00pm

+1 (630) 773-8910