Had my first massage at Tranquility Spa with Gloria and it was wonderful! It was so relaxingand she hit the areas that really needed to he worked on. I can't wait for my next one next month. Also had another facial with Debbie a few weeks back and also so relaxing and fantastic results. I highly recommend Tranquility Spa for both facials and massages. Jan W.

Jan W.

Loved the facial! The atmosphere was so soothing from the warm bed to the soft music, it was so relaxing. My face feels wonderful and I can't wait to go back!

Andi F.

First time getting a massage! Gloria was great, very friendly,and she helped me relax. Can't wait for my next visit.

Josselyn L.

Such a great treat for myself. Not only relaxing but me skin feels amazing. I cannot wait to book another vitamin c facial.

Diane C.

Gloria is an amazing massage therapist and her use and knowledge of oil therapy keeps me coming back.

Joyce S.

I love tranquility skin spa! Deb is absolutely the best! She is now knowledgeable, kind, and truly has the best interest in mind for her clients! I would highly recommend tranquility skin spa!

Marie B.

Fabulous service and a fantastic facial

Karen Anne B.

Very clean and professional

Diane R.

I just had a facial and eyebrow waxing. Definitely the best facial I have had. Very relaxing and my skin feels amazing. Debbie is amazing. She is so nice and does a great job. Will definitely highly recommend this Spa.

Kelsey R.

The "Get Pampered" facial was fantastic. Not only was it relaxing, but my skin was glowing afterwards. Debbie was extremely helpful with all of my questions, and made my experience comfortable and enjoyable. I'll definitely be back!

Lisa G.
---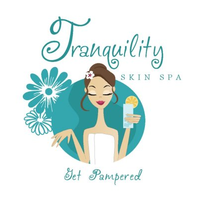 Tranquility Skin Spa
Spa & Massage
---
320 W. Irving Park Road
Itasca, IL 60143
United States
Tue, Thu: 12:00pm - 7:30pm
Fri - Sat: 10:00am - 4:00pm

+1 (630) 773-8910