Book Online
Makeup
1 Service
The Ultimate Makeover Experience
$35.00
Entertainment Purposes Only - Non-licensed
Themed Party Up-Do (4 styles)
Themed Makeover Accessory
Makeup Application
Just-A-Polish
Spritz of hair scent
One Creation Station item
Glitter Star on cheek
Pedicures
1 Service
Mini-Mani/Mini-Pedi Combo
$35.00
Lotion Hand and Foot Massage
Soft File Down of the Nails
Mini-Mani w/Ring and Nail Art
Mini-Pedi w/Toe Ring and Nail Art
Glitter Star on Cheek
---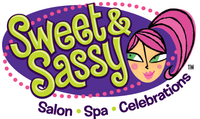 Sweet & Sassy – PA301 Bethel Park
Salon / Hair Care
---
301 South Hills Village
Suite 1000
Pittsburgh, PA 15241
United States
Mon - Sat: 10:00am - 9:00pm
Sun: 11:00am - 6:00pm

+1 (412) 307-5778
38 Reviews
Fantastic experience for my 3 year olds first nail trip. She's been nervous for sometime and backed out frequently but this time, she followed thro...

Ryne R.

Lauren is always fantastic with my girls. They have tons of hair and tons of curls so it is a lot to get through. She gets quite the workout every ...

Camryn F.

My daughter LOVES getting her hair and nails done at Sweet & Sassy. The staff is always awesome and make her visits very special!!

Bria S.