Cristiana is always my go to girl for waxing! Does a great job and so friendly to talk to. Would recommend her and the spa to anyone!

Shannon G.

Prompt and friendly service, very nice ambience. Courteous staff and good massage. Hope to come again.

Christopher P.

It was truly a relaxing experience from the moment we walked in till the time we left. Both my husband and I had one of the best massages we have ever had. We will definetly go back for another.

Marina G.

We just had an awesome couples massage and foot soak for our wedding anniversary. Both of our therapists, Amy and Thomas gave us exactly what we needed. Relaxation! We would recommend this spa to anyone!

Laura J.

Laura Gonzales is the best esthetician I've ever come across. She has healed my skin with her magical hands and skincare regiment. I expressed to her in my last visit that my skin has been the best it has been in my adult years. I never thought I was deserving of skin this clear and soft. I didn't think it was in the cards for me. I just thought my oily skin - that was always prone to breakouts, was my skin. I'm getting married in May '16 and I'm grateful I started seeing Laura over 6 months ago. She's definitely made an impact on my confidence leading up to the wedding. No filters needed on any of my photo's anymore. I love everything about this spa. Thanks ladies.

Yasmine K.

Peaceful and relaxing atmosphere. Wonderful massage. Thomas was great. I will definitely be back soon.

Karen B.

Renee is the best! Literally gets every single trace of anything bad out of my pores.

Amanda M.

I feel like a queen when I go in for my treatments. Served a glass of champagne makes the experience even better. Laura is awesome. Have enjoyed each and every time I go in. Thanks spa Kingston

Rachelle J.

I love the peaceful and charming atmosphere! And Christiana is talented and lovely:)!

Nancy C.

Christina was great! My brows have never looked better!

Aisha S.
---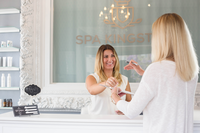 Spa Kingston
Spa & Massage
---
2230 5th Avenue
San Diego, CA 92101
United States
Mon - Sat: 9:00am - 8:00pm
Sun: 9:00am - 4:00pm

+1 (858) 367-5221