Best pedicure I have ever had! Great atmosphere, friendly staff and gorgeous cute place.

Jennifer B.

Because I'm very satisfied with my service there!

Sharon F.

Cute salon, nice people , cool vibe. Relaxing

Judy F.

It was awesome! Technician was so friendly!!

Amber H.

Love the atmosphere and the staff. Your services far exceed anyone else.

Gina B.

Relaxing! Easy appointment scheduling, and wonderful staff.

Desiree M.

Excellent service, friendly staff, beautiful nails

Victoria S.

The whole team works well together to make a relaxing experience

Alison G.

Amazing. I loved the service and everyone was so kind

Jedda P.

My girlfriend had a wonderful time, she said the staff were amazing, outgoing, and all around super welcoming. Originally her appt. Was scheduled for 2 hours yet she would up hanging out for FOUR hours!!! She said everyone was so fun and entertaining, she enjoyed the entire evening, thank you guys so much, I owe you for sure! And WILL DEFINITELY recommend you to all of my friends for their girlfriends. Have a wonderful holiday season.

Manon A.
---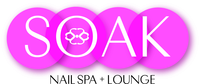 SOAK (2nd Street)
Nail Care / Manicure
---
628 W 2nd St
Reno, NV 89503
United States
Mon - Sat: 9:00am - 7:00pm
Sun: 9:00am - 6:00pm

+1 (775) 210-8842