Great service and always leave there feeling beautiful.?No question mark

Suzy S.

Yolanda S.

Blanca C.

I absolutely love Michelle and her team! They always make you feel welcomed and do an outstanding job!

Valerie C.

Cause it was great.

Josie D.

Jonathan R.

Very nice place and atmosphere was so calming and you took your time talking through every step , little massage was really relaxing , thank you

Mary Ann M.

Sarah G.

Kristen A.

Shanna U.
---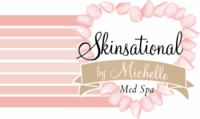 Skinsational by Michelle Med Spa
Medical Spa
---
319 R C Lane
Lockhart, TX 78644
United States
Mon - Thu: 9:00am - 8:00pm
Fri - Sat: 9:00am - 2:00pm

+1 (512) 842-4091