Becky deserves a 10, or higher. While she's an incredible manicurist and pedicurist, she's also part magician. She can, and does transform my raggedy feet into smooth, soft, polished ones.🙏♥️

Cheryl L.

Friendly, caring, experienced, and willing to take the time to explain how to do certain things with my texture hair.

Jean B.

Quick and beautiful work! Didn't know you could get both. Love the copper and great blow out

Denise C.

Love the coloring work done by Erin!

Maryann E.

Erin always can be counted upon to do a good job!

Ann M.

Erins the best

Logan H.

always good experience with color, service, etc. thank you!

Annie C.

Very pleased with the service frm jen.

Diane R.

Loved my haircut and my hairdresser is great

Mary Ann H.

It's all about Henry.

Rich G.
---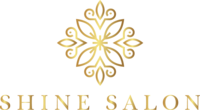 SHINE Salon
Salon / Hair Care
---
390 Main St
Ridgefield, CT 06877
United States
Mon: 9:00am - 3:00pm
Tue, Fri: 9:00am - 7:00pm
Wed - Thu: 8:00am - 8:00pm
Sat: 8:00am - 5:00pm

+1 (203) 438-5000