Samantha was great to meet with! I feel encouraged after our initial consultation and am looking forward to proceeding with figuring out my unique biochemistry and following her protocol. I feel this is a great road for my path to recovery!

Beth F.

Samantha has been a great listener and encourager for my healing journey. I appreciate her willingness to talk over any tough spots and her wisdom for adjustments that can help. She has been through similar struggles and listens with her heart and her mind.

Holly S.

I am working with Sami for my son. I absolutely love her recipes and I just did a follow up with her and she gave me some great advice for my son's recurring yeast problems. I have been very happy working with her and would definitely recommend her.

Deborah S.

15 minutes consult with Sami was more productive than most Dr visits I've had lately. Very personable, listens to everything you say and very clear in communicating what she can help you with.

Amanda P.

I would be very happy to respond with a testimonial after I've had the chance to work more in depth with Samantha. I've only just experienced a 15 minute overview but I was definitely impressed and feel really encouraged about working with Samantha. She is a straight shooter and really knows this field so I feel very confident in her abilities and I'm looking forward to our first consultation.

Teresa H.

Sami..is so knowledgeable! I wish I could do a straight two hour session with her. Come to think of it...it is so important to organize your comments and questions because Sami will address them all. She's that good!!

Wirel G.

Sami was extremely empathetic and hopeful for my recovery. Her enthusiasm as well as knowledge helped me to continue in faith in the process of my healing. Because she has been exactly where I am today and found health again, I have a lot of hope for myself and my family's future. For the first time, I feel like I have put my trust in the right team of professionals, Sami included!

Ana L.

I appreciated the fact that Samantha was a good listener, patient with me as I'am explaining my illness to her being a new client. I felt supported and understood. I also liked the fact that she asked me in the very beginning of our consult what I wanted to get out of my appointment with her giving the responsibility to heal from me first and she will guide me along in that. She answered all my questions and gave me a direction to start with in this important healing journey. Thank you & looking forward to working with you. Angele R

Angele R.

My experience with Samantha during my complementary 15 min session was very helpful and I look forward to working with Samantha again soon.

Kathleen W.

Sami is a superb listener. She thoroughly answered all of my questions and left me with a game plan to work on prior to our next appointment.

Wirel G.
---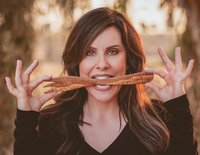 Samantha Gilbert, CHNP, CNC
Nutritional Counseling
---
Mon - Fri: 9:00am - 5:00pm

+1 (559) 425-6688