Salon Envogue, I found Yolanda, because I wanted natural and organic products for my hair. We had initial consultation appointment I was impressed with t he simple elegant decor and comfortable surroundings. Yolanda is professional, friendly knowledgeable and passionate about haircare. I left feeling b eautiful and valued. I am so excited and look forward to each appointment. 100 all the way around. Evon VA Beach.

Evon G.

FABULOUS HAIRSTYIST! AND A WONDERFUL PLEASANT PERSON TOO! I HAVE BEEN GOING TO YOLANDA FOR OVER 10 YEARS AND WILL FOLLOW HER ANYWHERE:) THE BEST!

Sharon Kaye S.

I absolutely love Yolanda. I've been going to her for over 3 years and I recommend her to everyone. My husband likes my haircuts so much he switched to her as well. She's amazing, consistent and always knowing of the latest trends.

Lucia O.

This was my first visit and Yolanda was amazing! I felt very comfortable and she did an excellent job on my hair.

Arielle M.

I have been fortunate enough to have Yolanda Wright as my hair stylist for over 12 years. She is incredibly talented, consistent and always developing her skills further!

Christina B.

Best experience! Love ❤️ my hair!

Lauren B.

Yolanda always makes me feel beautiful when I get my hair done and this time was the best yet! Each visit to her salon is always a treat!

Ashley M.

This salon is awesome. I love that I can make appointments online, I'm the only client in the salon, so I know Yolanda is working on just me. She is on time every time. I know I will be done within the allotted time and not longer. Overall I give a 10 because I am always blown away by customer service and professionalism of the salon.

Jessica Z.

Salon En Vogue!Is The Best Salon In Town!(By Far)My Hair Not Only Looks Good,But Is Healthy Too!(Thanks!To My Favorite Hair Stylist And The Right Products!)This Salon Is A 10 Plus!😋❤👍👍

Diana N.

First time client and I'm very happy with my haircut. I have already recommended friends and family to visit the salon.

Janet A.
---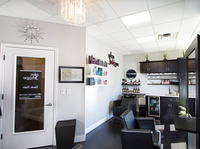 Salon En Vogue
Spa & Salon
---
3312 Princess Anne Rd. Suite #104
(Located inside Phenix Salon Suites)
Virginia Beach, VA 23456
United States
Tue, Fri: 10:00am - 5:00pm
Thu: 10:00am - 8:00pm
Sat: 9:00am - 4:30pm

+1 (757) 535-4269