Margarita A.

Energy and Professionalism

Mercedes G.

Camilo C.

Sandra B.

I had the best instructor of all time. Her name is Stasia and she is amazing.

Daniel B.

It's a different workout experience every time. Especially with Pilates. Mind body connection. I just love how you feel stronger every time.

Arissa V.

Instructors are amazing

Elena I.

Karin D.

Luciana A.

Natalia C.
---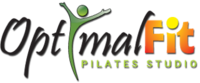 OptimalFit Pilates Studio
Pilates
---
10887 NW 17th street, #209
Miami, FL 33172
United States
+1 (305) 799-7086