New Serenity is tremendous. Everyone is friendly and professional. Amy is a great manager and Casey is the best at her profession. A great place to rejuvinate.

Jo S.

Amanda gave me an amazing massage. I have had countless messages in my life and would have to say she is one of the best!

Julie H.

I had my first ever massage there and it was incredible! The place was very comfortable and accommodating and the staff was amazing! I would definitely go back

Anthony V.

My experience at New Serenity Spa was amazing! First of all, it's a calm and serene environment, just as the name says, making me feel well cared for from the start. Casey, my massage therapist, was fabulous! It was clear that she loves her work, has a peaceful and joyful presence, and did not unload all her problems on me as she worked on me. Yes, that often happens! I walked in with tight, knotted muscles from accumulated stresses and walked out feeling freer, relaxed, and pampered. It was the perfect massage. Highly recommend!

Maryann E.

I go to Andrea at New Serenity Spa regularly and this time my skin was very dry due to medications but Andrea worked wonders with her hydrating and healing facial and of course the magic of her hands that relaxed me soon as the massage started. I recommend her to all who want extreme care and who are lazy like me to use products by themselves.

Garima B.

After doing extensive research, I found Serenity to have the highest ratings so I purchased a spa package for my guy for Father's Day. All the staff were EXTREMELY kind and professional. Thank you Nicole and Ryan for giving my guy the most amazing spa experience he said he has ever had! We will both be coming back for a couples spa package next!

Allan N.

I had a serenity facial the other day and Aleshia gave a relaxing and comprehensive facial. I felt relaxed and rejuvenated after my service. I also commend the front desk staff for the customer service they provided at check in and out. The receptionist was helpful with the products Aleshia had recommended for me to purchase. The spa is clean, inviting and professional.

Sandra L.

My experience at New Serenity Spa was amazing. I was in a lot of pain and the massage therapist did a great job, my back is feeling much better. Thank you.

Benjamin L.

Had Ryan and April for a massage recently. They were both skilled and fantastic. Whenever I try a new massage place I feel like I'm gambling -- not sure whether I'll get a good or bad masseuse. I joined this place as a member because they didn't make me gamble, they all seem to be good!

Corey D.

Loved the atmosphere, very tranquil & professional.

Maggie B.
---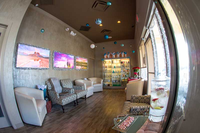 New Serenity Spa - Facial and Massage in Scottsdale
Spa & Massage
---
15609 N. Hayden Rd #138
Scottsdale, AZ 85260
United States
Mon - Sat: 9:00am - 9:00pm
Sun: 9:00am - 6:00pm

+1 (480) 485-4032
Refer Your Friends And earn rewards!