Connie is amazing

Laura S.

Awesome experience!!!

Chantele L.

Felt welcomed and massage was very good (worked out knots in muscles)

Andrew R.

Excellent service from the front desk to the massage therapist

Samantha O.

Because Mike is a triple A with his massages

Christine F.

Connie is a magician. Period.

Paul F.

Friendly staff, clean and welcoming atmosphere and great prices

Nicole V.

Great atmosphere, therapist, and experience.

Stacy C.

The environment is so peaceful. Massage Green also has infrared therapy which can enhance the massage experience. That's a differentiator from other massage spas. Massage Green also has the widest selection of aromatherapy oil add-ons that I have experienced at any other spa, and that includes resorts!

Susan C.

Our massages were wonderful and relaxing and Karen and Mike were both very nice.

Melanie K.
---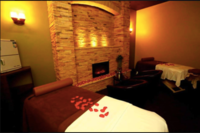 Massage Green Spa - Rocky River
Spa & Massage
---
19935 Center Ridge Rd
Rocky River, OH 44116
United States
Mon - Sat: 9:00am - 9:00pm
Sun: 10:00am - 6:00pm

+1 (440) 683-6558