Cheri G.

Very helpful with instructions

Bruce H.

I liked the instructor, the surroundings and thought I should return to fulfill my commitment.

Lyn B.

Helena C.

Teacher, class design

Sara G.

Wondrous!

Denise G.

Beautiful, inviting space with wonderful teachers

Michele T.

Sally H.

Aimee D.

Instruction made me feel Comfortable, really informative about things, the studio is beautiful and relaxing and calming

Hayley H.
---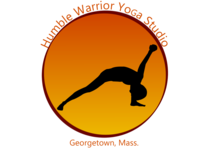 Humble Warrior Yoga Studio
Yoga
---
One East Main Street, Suite 2B
Georgetown, MA 01833
United States
+1 (978) 771-8749