As a first time customer of Heavenly Touch Spa. I was impressed with the calm and peaceful environment. Jessica was both professional and informative as she went through each step with me. I would highly recommend this business.

Cindy D.

Jessica does an amazing facial!

Karlene R.

Massage therapist are great! Always professionally done and relaxing!

Joel C.

Had extreme lashes by Jessica, just fabulous❣️

Darlne W.

It was a fantastic massage. Will definitely do it again next year.

Carol M.

Best massage ever

Kathy P.

The people at Heavenly Touch are great. Services are reasonably priced and of great quality!

Lakyn R.

Great atmosphere fair price and a pleasant massage therapist. Thanks

Rick C.

Great experience overall, very personable and friendly staff!

Abby Q.

Very clean place, loved the pressure Emily used with her hands! Will def be back whenever I'm in town!

Kendall L.
---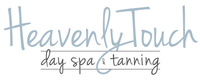 Heavenly Touch Day Spa & Tanning
Spa & Massage
---
246-D Wilson Drive
Boone, NC 28607
United States
Tue: 10:00am - 6:00pm
Thu: 10:00am - 8:00pm
Fri - Sat: 10:00am - 3:00pm

+1 (828) 539-4328