Fresh cut. Harold is a ninja warrior with the blade.

Ryan T.

The shop was very clean and not packed like other shops. Harold also takes the time to perfect a cut and is no rush to get you out of there! Awesome shop will be going back!!!

Luis C.

Harold was polite, efficient, professional, fun, and skilled. What more can one want?? He is our family's new barber and we will recommend him whenever we can!

Sharonda C.

This was a great experience! Not only was the haircut phenomenal, the efficiency was outstanding. We were out of there in 20 minutes. We will be regulars!!!!!!

Jonathon S.

Harold is a great man doing great work in the community and one of the best barbers that I know. He is professional, on time, personally and a perfectionist at what he does. Ibe never met a barber who makes your haircut his walking advertisement like Harold does.

Ray K.

I had been looking for a barber for over a year. Couldn't find anyone that cut my hair the way I wanted until Harold. When I left shop I felt good about my experience. And my wife said thank God you finally found a barber

Samuel D.

Harold the Barber is right on time! Love his organized and professional approach to business. My sons have not had to wait for more than 2 minutes, and wecouldn't be happier for the quality of their cuts! Kudos to an awesome Barber!!

Toni C.

Excellent haircuts for my son and I with great service.

ivan W.

Awesome barber always punctual and polite. I would recommend him to anyone I know.

Otis G.

My boys don't do a good job of taking care of their hair. Thanks to Harold...they look like young men are "supposed" to look! Thanks Again!!!!

Betty V.
---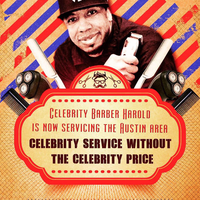 Harold The Barber
Salon / Hair Care
---
3021 S. IH-, N. Interstate 35 Frontage Road
Round Rock, TX 78664
United States
Sun, Mon, Wed, Thu, Fri, Sat: 9:00am - 8:00pm

+1 (972) 514-7767