Classes are always fun and love the positive energy of all the staff!!

Janine M.

Love the environment and people that work there

Justin B.

Classes, staff and equipment are the best!!!

Michelle T.

HWNE is such a welcoming and motivating gym environment. The class schedule allows me to fit challenging workouts into my day that leave me feeling great! Such fun classes and nice staff. I always find ways to recommend the gym to everyone I meet.

Anna B.

Awesome Staff! Something as simple as saying hello and by name (with correct pronunciation) means a lot.

Tisa D.

I love this Gym ! Awesome and inspiring coaches ! Best group classes and individual training !

Maria C.

Love the trainers

Alison S.

I love everything about HWNE- it's a first class gym and the owner and staff are fantastic!! Best gym ever❤️💚💛

Sherrill C.

I love Diva!

Annmarie (Momma) D.

I ride with Love

Lutfi S.
---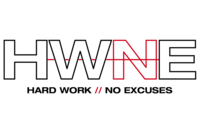 Hard Work No Excuses
Sports & Fitness
---
14 East Stow Road Suite 200
Evesham Township, NJ 08053
United States
+1 (856) 267-5885