I've been going to Lancer for over 4 years now and he's great! He always takes great care of me and I'm always happy with my haircut. The atmosphere there is amazing as well!

Billy C.

Lancer is awesome, welcoming, friendly, and listens to his client's requests when tending their hair. He came highly recommended from a trusted friend and I immediately saw why!@

David S.

Lancer is great!

Hobbit J.

I'm growing out my short hair and needed a trim to help deal with the awkward grow out. I was only expecting some emergency maintenance but I ended up with a cute new "do". Better than anticipated!

Laurel B.

Since Lancer has been my hair guy, my hair always looks good. I receive compliments on the color (all over with highlights) all the time, the whole span of time between appointments. The day before my most recent appointment, my bestie asked if I'd just gotten the color done. In terms of the cut, I have lots of very fine hair that I usually have in a relatively short inverted bob. I've had cuts in the past that left me having to blow my hair dry every time I washed it for it to look good. With Lancer's cut, I can let my hair air-dry when I want to and it still ends up looking good. Lancer's services are not cheap, but this is absolutely a case of you get what you pay for and I always find him to be worth every penny.

Cecelia L.

Lancer is the best stylist I've ever been to, bar none.

Brendan D.

Lancer has cut my hair for five years now and he always has done a marvelous job!

Guy G.

Lancer was very patient with my fussy hair! I only came in for a trim but a couple friends who didn't know I'd gotten it cut complimented the shape! I say that's an A+

Megan E.

Awesome!

Hobbit J.

I often get unsolicited compliments because of what Lancer is able to do with my hair.

Audrey H.
---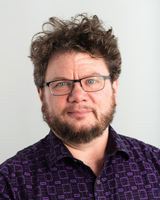 Hair Guy Lancer P.L.L.C.
Salon / Hair Care
---
Emerson Salon
909 E. Pike St.
Seattle, WA 98122
United States
Tue, Thu, Fri: 10:00am - 7:00pm
Sat: 10:30am - 6:30pm

+1 (415) 779-7441