Book Online
Cryotherapy
3 Services
WHOLE BODY CRYOTHERAPY
$70.00
Whole Body Cryotherapy is a hyper-Cooling process that exposes your skin to extremely cold temperatures (-170 F to -280 F). Treatments can last up to 3 minutes. This triggers the body's natural healing process and result in numerous Health Benefits, Fitness Recovery and Beauty and wellness
CRYO LOCAL
$30.00
Local CryoTherapy treatments are used to reduce pain, inflammation, and swelling in targeted areas.It is used for accelerated healing of areas such as neck, shoulders, elbows, wrist, hands, back, legs, anklesand feet. A local area treatment only be conducted about 5 to 10 mins, with a benefits exceeding that of hours of icing.
CRYO-FACIAL
$45.00
CryoFacials have amazing benefits, Reduces pore size. Decreases wrinkles and lines. Stimulates Collagen production. Improves blood flow. Brightness dark spots.
Sauna
1 Service
INFRARED SAUNA
$35.00
30 to 40 mins. Infrared Sauna Session with complementary Cromotherapy. Our rooms also have Direct TV at no extra cost :)
Wellness or Integrative
2 Services
Normatec Recovery
$25.00
The Normatec Recovery System will help you to faster recovery, Improved Circulation, Decrease Latic Acid,Reduce Pain and Better performance
Nutritional Counseling
$100.00
Weight Loss and Anti-Inflammation Program
Nutrition and Performance Program
Weekly 60 min. counceling sessions
---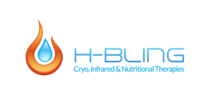 H-Bling: Cryo, Infrared & Nutritional Therapies
Wellness Center
---
1027 E. Imperial, Suite D5
Brea, CA 92821
United States
Mon - Fri: 10:00am - 2:00pm
Mon - Fri: 4:00pm - 7:00pm
Sat: 10:00am - 5:00pm
Sun: 1:00pm - 5:00pm

+1 (714) 674-0242
1 Reviews
Cryotherapy is one of the best things I have found for pain relief. Since I started with this therapy 2 months ago I have been pain free. David Wi...

David W.