My fingers and toes have never been happier since I started regular manis and pedis at Greentoes. Service is professional, friendly, and exactly as you want it. The atmosphere is calming and relaxing. A great place!

Jo K.

Best nail service, for feet or fingers, I've ever found. The tea is delicious, the sugar scrubs smell wonderful, and the organically sourced products do notcontain formaldehyde, etc., so no headaches! Strongly recommended

Chris W.

Customer oriented, I always feel like I am the center of attention. Most professional staff.

Katherine G.

Excellent pedicure in a professional atmosphere!

Louise K.

great place always on time and friendly, Jessica rocks!

lori P.

I have already recommended to 2 people. I think gift cards at Christmas for my co-workers are a great idea as well. I know I would love to receive one.

Wendy O.

I loved the environment. The staff is very friendly and helpful. I received a massage and pedicure and LOVED it!

Simone K.

Comforting atmosphere; friendly and professional staff.

Jenny B.

This was such an amazing experience! We were treated like queens and knowing that everything used on my skin wasn't full of chemicals made me leave there feeling so relaxed! Not to mention the amazing treatment! Best pedicure I've ever had!!!!!

Melissa T.

Appreciate the friendly welcome and the excellent service.

Allison T.
---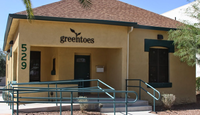 Greentoes
Spa & Massage
---
529 N. 6th Ave.
Tucson, AZ 85705
United States
Mon - Sat: 9:00am - 6:00pm

+1 (520) 462-1818