Function and Fitness and the amazing coaches and staff have taught and helped me transform my mind body and soul. They work none stop to encore and keep me accountable. We are all a big family inside and outside the gym!

Misti N.

Jade D.

The coaches are the best!

Kacie Y.

Great team atmosphere Great teachers

Bryan T.

Arbi A.

Fun & Fit is the most convenient, fun and serious( getting great workouts in) gym experience I've had.

Rina D.

Great atmosphere, challenging yet fun workout and exceptional coaching!

Janet D.

Great trainers. Clean facility. Fun work out that is challenging but not too exhausting

Gail M.

I'm loyal to Leah!!! Great place for her to showcase her talents!!

Cathy E.

Mike D.
---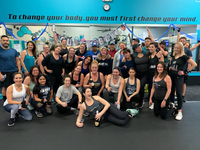 Function and Fitness LA
Sports & Fitness
---
2833 Honolulu Ave
Verdugo City, CA 91046
United States
Mon, Wed, Fri: 5:30am - 12:00pm
Mon, Wed: 6:30pm - 7:30pm
Tue, Thu: 5:30am - 11:00am
Tue, Thu: 6:00pm - 8:00pm
Sat: 6:30am - 11:00am
Sun: 8:00am - 9:30am

+1 (818) 800-0124