Nice facility. Friendly help.

Randy B.

Joshua Y.

Danyal Y.

1st of all which is very important too me is the place was very clean, and the service was great! Also the prices was at least affordable so for that Thank you very much 👍😊

Esther S.

Hilda G.

Great people!! Great atmosphere!!

Tim R.

I loved everything about it

Shamain M.

Customer service and the way my body feels after

Kelly B.

Donna F.

Lorelei M.
---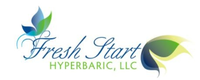 Fresh Start Hyperbaric
Wellness Center
---
2908 Meridian Ave East Suite 102
Edgewood, WA 98371
United States
+1 (253) 770-6085