The whole experience was beautiful. I can't wait to try it again.

Katie H.

Cassandra K.

Exactly what I needed (but didn't think of, until having a conversation with one of your staff). Great premises, lovely tank. Fantastic sounds, too - having that selection was great. And - great way to get rid of unhelpful, socialised anxiety over the batplague situation, too.

Hamish S.

Robert T.

Krisa B.

Wonderful service and facilities.

Stephen G.

Because it is such a unique experience, I think everyone should try it at least once.

Steven B.

Awesome relaxing experience. Always love coming down and having a float. Love the friendly staff too

Jo C.

Great experience

Michelle D.

Selden C.
---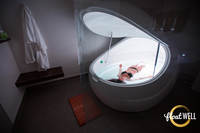 Float Well
Spa & Massage
---
Level 1, 65 Cuba Street
Wellington, WELLINGTON 6011
New Zealand
Mon: 12:00pm - 8:00pm
Sun, Tue, Wed, Thu, Fri: 10:00am - 8:00pm
Sat: 8:00am - 8:00pm

+64 4 470 7729