Professional service, clean environment, friendly staff

Diana A.

Marlo is great and very detailed. Sent my friends to her already!

Jordan F.

Love my lashes! Very professional and clean work!

Estelle G.

They went above and beyond to accommodate me on my special occasion

Alia S.

I have always had a pleasant experience when I see you guys! Thank you!

Betsy G.

Easy to book, good quality lashes, lash technicians know exactly what are they're doing, studio sells products like lash shampoo, oil free eye liner, and serum

Justine C.

Staff was very nice and helpful and my results of my eyelash were fantastic! Absolutely in love with them. And prices are reasonable from what I have been paying.

Jaylen J.

My Lash Tech, Kathy, was amazing. She talked me through the whole process and really gave me my confidence back.

Makenzie N.

I went to Fiji for a week and snorkeled, swam in the ocean, road on boats, and let me tell ya those suckers stayed on!! It's been 2 weeks and I don't feel like I need a fill.

Haley R.

Marie is a fantastic eyelash extension expert! She is thorough, understands balance, and shape and how lashes accentuate the face's overall shape and beauty. She's a perfectionist, personable, and a genuine asset to the studio. Marie has made me a loyal customer because she is a lash blessing goddess! Also, as an extra bonus, the Uptown receptionist is kind, flexible, and understanding. She goes out of her way to assist clients, and is not snarky like most receptionists at lash studios. This is a great place! I highly recommend Flirty Girl Lash at Uptown.

Melissa S.
---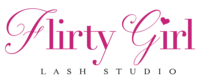 Flirty Girl Lash Studio Uptown
Eyelash Extensions
---
2422 Allen St
Dallas, TX 75204
United States
Tue - Fri: 10:00am - 7:00pm
Sat: 9:00am - 6:00pm

+1 (214) 258-6063