Excellent service and products

Leslie R.

Everything

Bo M.

Stephanie K.

Faryn S.

Viva W.

Evolve reached out to me for a complimentary sauna session which I really appreciated. The staff were also very kind and helpful. Thank you again!

Valorie A.

i may be 5 or 10" late for the 2p.m. or I can reschedule.... whatever is best for you.

Steve A.

The staff was courteous and informative, very professional and I didn't feel pressured to do anything.

Dana C.

Jenna C.
---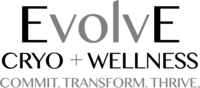 Evolve Cryo + Wellness
Wellness Center
---
3411 S. LAMAR BLVD.
Austin, TX 78704
United States
Mon - Fri: 10:00am - 7:00pm
Sat - Sun: 10:00am - 6:00pm

+1 (512) 957-9487