Book Online
Hair Care
1 Service
Essence Therapeutic Hydration Steam Treatment
$35.00
Steam Hydration Therapy is simply put a deep conditioning style treatment involving a deep conditioner and steam.
The steam opens hair cuticles to allow for deeper penetration of the water vapor as well as the deep conditioner.
A hair steamer is like a hair dryer only instead of dry hot air blowing on the hair, steam blows on the hair.
Benefits of Steam Hydration Therapy
If you have constant problems with dry hair, your hair's moisture retention is low and steaming your hair regularly once a week or twice a month can greatly improve your hair's softness, manageability, and moisture level.
Steaming is great for natuaralistas with dreadlocks as well. Other benefits include:
increased circulation in scalp leading to better hair growth
cleanses scalp, removing dirt and dead skin
brings moisture to your roots and hair shaft
leaves your hair soft and smooth
great for people who suffer with dandruff
stops dryness and hair breakage
makes hair stronger and healthier
improves hair color treatments
can also act as a facial steamer
Hair Extensions
2 Services
Goddess braids
$85.00
Essence will first pamper you with our complimentary therapeutic shampoo&conditioner by Paul Mitchel, followed by a soothing scalp message. Goddess braids can be done inverted or a Feed in cornrow. It is a great protective hairstyle that last for about 3 weeks.
Kinky twist
$150.00
Essence will first pamper you with our complimentary therapeutic shampoo&conditioner by Paul Mitchel, followed by a soothing scalp message. Kinky twists are a type of hair style used by women with naturally curly or kinky hair. They are considered a "protective" hair style because it keeps the natural hair as is, without the use of harsh chemicals or heat tools. You use hair extensions to create a textured, even and full look around your head
---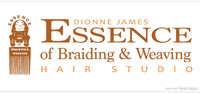 Essence of braiding&Weaving *NEW
Salon / Hair Care
---
1874 Piedmont rd
Atlanta, GA 30324
United States
Sun - Sat: 8:00am - 7:00pm

+1 (404) 736-4635