I've been practicing yoga at Detroit Yoga Lab for several years — the community that Naomi has created here is unlike any I've experienced elsewhere. It's an incredibly special place!

Lisa N.

I love this studio! The teachers are excellent, playlists are cool and the students are friendly.

Dana S.

Shalini T.

Jodi T.

Sarah R.

I've enjoyed all of the classes and teachers that i've practiced with so far. Even the 75 vinyasa class feels manageable for a beginner so someone who is getting back into the groove because of the great direction and vibes from the teachers.

Jenna B.

Jamie W.

Kyresha L.

Scott B.

Sean B.
---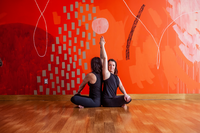 Detroit Yoga Lab Midtown
Yoga
---
69 W Forest Avenue
Detroit, MI 48201
United States
Mon - Thu: 12:00pm - 1:00pm
Mon - Thu: 4:00pm - 9:00pm
Tue, Thu: 6:00am - 7:00am
Fri: 12:00pm - 2:30pm
Sat - Sun: 8:30am - 11:30am
Sun: 4:00pm - 5:30pm

+1 (313) 356-3355