Bradley H.

Carrie H.

Consistently quality classes, instructors, and community.

Angie Z.

Rebecca is awesome. Everything new she brings to class is fun, realistic and attainable for all levels and her cues are always helpful to correct the physical and mental state. Thank you!

Daniel M.

I really enjoy the vibe of the studio and the teachers are great

Michele F.

Beautiful space. Amazing practice. Transformative energy.

Rebecca M.

Monica W.

Delaney D.

Whitney P.

The teachers at the studio are great and the atmosphere is perfect .

Leena K.
---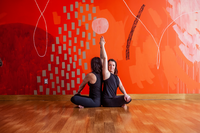 Detroit Yoga Lab Midtown
Yoga
---
69 W Forest Avenue
Detroit, MI 48201
United States
Mon - Thu: 12:00pm - 1:00pm
Mon - Thu: 4:00pm - 9:00pm
Tue, Thu: 6:00am - 7:00am
Fri: 12:00pm - 2:30pm
Sat - Sun: 8:30am - 11:30am
Sun: 4:00pm - 5:30pm

+1 (313) 831-9642