Davis & Davis Credit Advisors is providing a service very much needed in the business community. You have taught me an easier way to manage my financial r esponsibilities with the use of very affordable technology. Thank you for your assistance as I grow my business. D & D On-Point Protective Services, LLC

Darryl P.

Our experience with Davis & Davis Credit Advisors has been exceptional! In particular, Jahi has been more than helpful with illustrating our paths to both financial freedom and entrepreneurship as new business owners. His intelligence, consistent punctuality, and outstanding professionalism has encouraged and taught us how to operate our business the right way. We have had everything we've needed for various appointments and meetings thanks to his advisement and we are constantly recommending his services to others. We are forever grateful! Brandon and Dakia Morgan

Life for me is finding the answers to truly live and finally I've decided to proceed with the trust and help from Jahi Davis to guide me to excell financially. My initial experience of his knowledge, I realized it would someday be beneficial for me and my family. Grateful to have the experience.

nicole G.

Jahi is AMAZING. He works extremely hard on my behalf, he's consistent, and very passionate about assisting me in accomplish all of my goals. The choice to work with Davis&Davis has been life changing and I can't wait to see what the rest of the future holds. Thank you so much for everything!!!

Marquita H.

I was referred by a friend to meet with Davis and Davis because I was at the point where I realized that I needed professional help with managing my finances as well as guidance on becoming an entrepreneur and taking steps to start my own business. From the initial telephone consult to my very first meeting, I immediately knew that I was working with a professional company that truly cared about their clients! Davis and Davis carefully listened to my concerns, identified with what I was experiencing and made a personal connection with me based on true to life experiences that they themselves had lived and encountered which was truly a genuine testimony. Their professional knowledge, skills, insight and straight talk really allows you as a client to connect with them and build a comfortable working relationship that I knew for me was the beginning of a healing process that I was not able to do on my own because I had tried time and time again. There are no strings, no criticisms of how you got to their doorstep, only genuine, people who care about helping you accomplish financial freedom with professional, sound advice and tough love to get you whole again in and better than when you came to them before. I have and will continue to recommend them to my friends and those associates who want to live better financially, strive to achieve their dreams and enjoy life through responsible planning ever after! Paula A.

Jahi is very personable, he cares about both my husband and I finances, relationships, and our marriage. He teaches us, coach us and challenges us.We are learning so much from him and I have already spread the word about the great services he offers.

Mr. Davis is a timely professional who always make sure you are treated as the #1 client providing world class service. Linda V. Brown, PhD

My husband and I have been determined to fix our credit these past few years, but we just didn't know where to start. It has become pretty discouraging. Since we have started working with Davis & Davis, their professional one on one consulting sessions have definitely helped me not only understand our credit but make us overcome our fear on how to fix our credit. Because of Davis & Davis we are able to see a more clearer financial future.

Sheena S.

My first meeting with Jahi Davis of Davis & Davis was yesterday. I was impressed with his knowledge of credit counseling, and more importantly with his ability to evaluate and understand my specific situation in a very short time. Within a half hour, of our hour and a half meeting, we were on the way to some constructive remedies. I am looking forward to completing my "homework assignments" for my next meeting, and working with him and the company for the long run. Trish Cooper

They are a trusted advisor and expert in the financial industry. They provide exceptional customer service and treat you like you are their only customer. I highly recommend them to anyone needing assistance with their finances or wanting to improve upon their current status.
---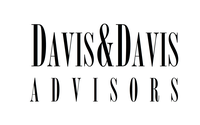 Davis & Davis Advisors
Business Consulting
---
15126 Nancy Gibbons Terrace
Upper Marlboro, MD 20774
United States
Sun: 10:00am - 4:00pm

+1 (202) 821-1825