I walked into Dapper Barbers after my stylist of 20 years moved out of the area. Being on a quest for a new barber is a daunting experience, especially when you work with the public daily. I remembered Dapper from living in the neighborhood and decided to try them out. I was impressed by the ease of setting an appointment online. From there, the experience only got better. I was greeted within seconds of entering the shop. I was offered something to drink and seated promptly. Kreg, my barber is experienced and not the novice I had at another shop recently. He offered excellent suggestions and went to work. Along with the haircut, I had him trim up my beard. You have not lived as a man until you've had a straightedge shave! I was very pleased with how I looked after Kreg finished. My wife was also very happy! So was my wallet. The prices for all services offered was reasonable for a shop of this quality. Overall, the shop has a great throwback feel and provided what I was looking for. I plan on being back.

John R.

Being a purveyor of pin-up, Devin "Gatsby" James needs to have his hair cut and beard trimmed right to ensure the proper look for swing-hop music. The guys at Dapper Barber Co know exactly how to make me look Gatsby :)

Devin S.

The best place I get the kind of hair cut and beard trim I wamt.

Jerry F.

Highest caliber haircuts by professionals who really know what they're doing, great mellow/friendly vibe, reasonable prices, whiskey. It doesn't get any better.

Simon W.

Jeff did a great job with my haircut and he always gives good service.

John O.

Great service and product recommendations - these guys know what they're doing!

Josh E.

Everything from front of desk to Hair staff was positive and polite. Jeff cut my hair, and did a solid job. Would recommend to family and friends.

Paul C.

Great easy set up for an appointment online and when I got there everyone was nice, chill and helpful and the actual service was great I highly recommend this place

Kelvin R.

Kreg is a great barber. He does an excellent job on my hair. Also, it's great atmosphere as well!

Kyle W.

Craig is hands down the best !

Andy K.
---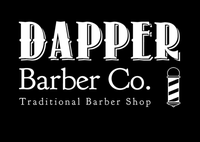 Dapper Barber Co - Hawthorne
Salon / Hair Care
---
4538 SE Hawthorne Blvd
Portland, OR 97215
United States
Mon: 11:00am - 7:00pm
Sun, Tue, Wed, Thu, Fri, Sat: 10:00am - 8:00pm

+1 (503) 858-3219