had snacks and beverages. My massage was wonderful. Great Cust My visit was nice. The place smelled and looked beautiful. They omer Svc🤗

Kay E.

Wonderful, relaxing ambience and great massage. We will definitely be visiting again!

Christina E.

I had an amazing experience at Curacion. A deep tissue massage accompanied by soothing music and an overall relaxing ambience.

Tiffani S.

My best friend and I truly appreciated Curacion Nails, Body, and Success Sanctuary's welcoming us in and creating a very memmroble evening for us.

Vida Z.

This was one of the best massages I've ever had! Felt relaxed from just entering the studio, with the ambience and delicious cocktail. Our couples massage therapists were so wonderful and asked us continually how everything felt. I was so impressed with everything and can't wait to come back!!

Neha S.

Curacion was a wonderful discovery! The staff was all very nice and dedicated to their customers. I enjoyed the complementary drink offered with any service and the nice arrangement of the space. I got an incredible deluxe healing massage which was a deep tissue whole body massage and a green tea facial. The masseuse I got was very professional and worked really hard on the knots in my back. He even kept me 20min more! I felt as in a new body leaving this place :) I would def come back and recommend this place !

Sarah C.

Great place and helpful, kind and caring staff!

Bobby C.

Everyone at curacion puts their heart into their work, I left feeling rejuvenated and new. Tavi took great care of me, and appreciate her helping me pick a color that fit my personality yet branched out. It was empowering in a way to try something new, and "nail" it :) thanks again!

Adrianne B.

Great massage overall. Supremely relaxing!! They're pretty new so the rooms might not be super fancy yet--but if you're looking for a fantastic massage--look no further!

Vikram R.

This was an amazing experience, everyone was incredibly friendly and warm, the place was clean and decorated nicely and I was invited to have drink and snacks while I waited for my massage. The massage itself was amazingly helpful and definitly worth my time and money,would recommend for anyone to go there!

Stephanie W.
---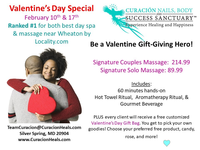 Curación Nails, Body, and Success Sanctuary™
Spa & Massage
---
P.O. Box 4858
Silver Spring, MD 20904
United States
Sat: 11:30am - 8:00pm

+1 (301) 933-5258