Book Online
Cryotherapy
3 Services
(a) Whole Body Cryotherapy | Appropriate pricing will be applied at check-out in person
$70.00
3 minute Whole Body Cryotherapy session. This brief Cryo session will safely apply sub zero temperatures to your body for the stimulation & rejuvenation of your entire being.
Cryo provides relief from pain, soreness, & inflammation; Helps decrease skin blemishes & cellulite.
If you wish to purchase a multi-session package you may do so at Cryo Club when you come in for your scheduled appointment. NO PAYMENT IS REQUIRED TO BOOK
Frotox | Cryo Facial Single Session | 12 Mins
$55.00
Spot Localized Cryo | 3-5 Min Session
$25.00
Pinpoint your problem area to reduce inflammation with this treatment.
Wellness or Integrative
3 Services
Game Ready | Cold Compression Therapy | 20 Min
$25.00
Game Ready integrates intermittent pneumatic compression and cold therapy to reduce pain and swelling, reduce muscle spasms, enhance lymphatic function, encourage cellular oxygen supply, and stimulate tissue repair. Sessions are typically 20 minutes.
Marc Pro Recovery | 30 Min Session
$25.00
The Marc Pro is intended for muscle conditioning by stimulating muscle in order to improve or facilitate muscle performance. It is also used for temporary relief of pain associated with sore and aching muscles in the shoulder, waist, back, neck, upper extremities (arm), and lower extremities (leg) due to strain from exercise and normal household and work activities. - Add to any Cryo Session for $15.
NormaTec Compression | 30 Min Session
$25.00
30 minute session w/ NormaTec, a dynamic compression system designed to enhance blood flow for rapid recovery and rehab.Try the Leg, Hip or Arm attachments.
---
Cryo Club Atlanta
Medical Spa
---
2355 Cumberland Pkwy
Suite #90
Atlanta, GA 30339
United States
Mon, Tue, Wed, Thu, Sat: 10:00am - 8:00pm
Fri: 10:00am - 4:00pm
Sun: 1:00pm - 5:00pm

+1 (404) 620-2894
Refer Your Friends And earn rewards!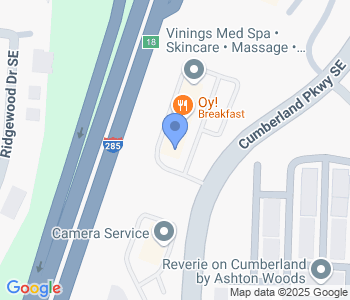 47 Reviews
My ankles, RA, have not looked this good in a long time. Better balance in PT today.

Shannon K.

The owner was amazing and so was his staff. Very knowledgeable and passionate about the business and helping clients.

Matt W.

It was an interesting experience and I believe in the benefits. I already sent my mom over.

Shaunya I.