Zac R.

Bryan O.

Really it's the consumer experience there at break free that I love personally you walk in to a relaxed setting while being greeted and treated to a premium health pharmacy experience and also always letting me sample new stuff really great vibes there!!!! Kiara and the rest of the team are awesome!!

Justin A.

William S.

Isn't it obvious?! All who dwell there are healers extraordinaire.

Len B.

The staff at Break Free made me feel like family instantly by treating me like a human and just not just a customer number. The big store cant even come close to this type of treatment. Not only that but Break Free truly has multiple ways for me to get my mind, body and spirit to be in a healthy and harmonious state from a out side of the box approach that is refreshing and enlightening. I highly recommend Break Free to anyone that is looking for a different way to Break Free from anything that doesnt serve you well. Thank you guys for all you do.

Josef S.

Very knowledgeable and helpful people nice and clean play.

Suzanne P.

Karen M.

Neal W.

Great service. Great vibes

Patrick M.
---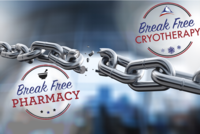 Break Free Pharmacy and Cryotherapy
Wellness Center
---
4603 Okeechobee Blvd. Suite 118
West Palm Beach, FL 33417
United States
+1 (561) 571-8413