Friendly and welcoming staff Supportive environment Unique, creative, challenging fitness experiences

Anita A.

Madelyne R.

Because it's an inclusive and fun place to work out. Plus the classes are always enjoyable

Brittany P.

The instructors are amazing & the classes are a lot of fun! There is a variety of classes that you wouldn't find at a typical fitness studio.

Aleksandra S.

Karianne M.

Jessica R.

It is always a delightful environment and very encouraging. I stopped working out about a month and a half ago. And this was the hardest work out I've ever done and I'm happy that i finished and had encouragement.

Annina P.

Loving Allure!

Alicia S.

Amazing Class!

Andrea C.

Marie B.
---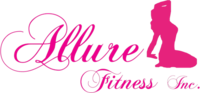 Allure Fitness Inc.
Sports & Fitness
---
985 King Street West, Unit 2
c/o Allure Fitness Inc.
Hamilton, ON L8S 1K9
Canada
Mon - Thu: 12:00pm - 9:30pm
Fri: 12:00pm - 8:30pm
Sat: 10:00am - 5:00pm
Sun: 12:00pm - 8:00pm

+1 (905) 667-0999