Book Online
Vintage Visits
3 Services
Vintage Clothing, Jewelry and Accessory Shopping
Need to browse our extensive collection of vintage costume jewelry? Need a dress for a special occasion? A hat, purse or vintage fur stole to complete your ensemble? Just let us know what you are looking for and a selection of things will be pulled for your perusal.
Etsy Pick Up
Would you like to try on or pick up something from our Etsy shops in real life? Just send the link(s) for the item(s) you are interested in and we will have everything ready for your arrival. It's an excellent excuse to take in the wonders of the entire Emporium and saves you shipping costs.
Find the goods here:
https://www.etsy.com/shop/AlexSandras
https://www.etsy.com/shop/unionmadebride
Valuing Vintage Women's Wear
$50.00
Do you have heirloom vintage you would like to know more about, but don't want to sell? Bring us what you have and we will tell you all we know including current retail value, approximate insurance value, and what you could expect to get selling it yourself. I particularly excel at the history of vintage costume jewelry and am happy to help sort fine jewelry from costume and dime store jewelry from high end designer pieces.
---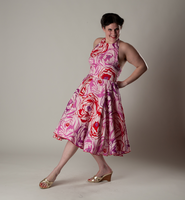 AlexSandra's Vintage Emporium
Business & Events
---
6726 N Interstate Avenue
Portland, OR 97217
United States
Sun - Sat: 10:00am - 8:00pm

+1 (971) 260-0283