Book Online
Vintage Visits
6 Services
Bridal
3 Services
Bridal Business
Looking for a vintage wedding dress? Then this is the appointment you should book. Expect to spend up to two hours discussing your wedding dress and accessory needs. Bring your gal pals and let get this party started!
Custom Dress Consultation
$40.00
Want to wear your family wedding gown but find it doesn't fit your body or your style? Bring it down to the Emporium and have a conversation about your options. I have made 26" waist dresses fit brides with a 38" waist. Let's take advantage of my creative mind and make your special day extra sentimental. The price of this booking covers brainstorming and outlining a plan for what work needs to be done. Sewing services run $50 and hour and a guesstimation of hours needed to complete the work can often be made at the end of this appointment.
This appointment booking is also appropriate for ladies desiring to have a dress custom made to fit their body. The least complicated of custom made dresses require at least 10 hours of work to manufacture and fit.
Simple Bridal Alterations
$20.00
Does your wedding dress just need to be hemmed, have the straps raised or other simple alterations? Then come for a fitting for up to one hour and we will get you all pinned up and ready to go. Bridal alterations run $50 and hour and a guesstimation may be made during this appointment.
---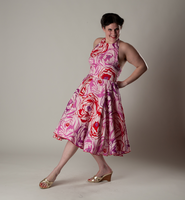 AlexSandra's Vintage Emporium
Business & Events
---
6726 N Interstate Avenue
Portland, OR 97217
United States
Sun - Sat: 10:00am - 8:00pm

+1 (971) 260-0283